I made Porzingis caricature for newspaper Latvijas Avize. Kristaps Porzingis made his NBA debut in Milwaukee on Wednesday, more than 4,000 miles from his native country of Latvia. 
The rookie gave Knicks fans all over reason to hope with a 16-point, five-rebound debut in New York's 25-point win.
On June 25, 2015, Porzingis was selected with the fourth overall pick in the 2015 NBA draft by the New York Knicks. Porzingis became the highest drafted Latvian (and from Baltic states) in NBA history.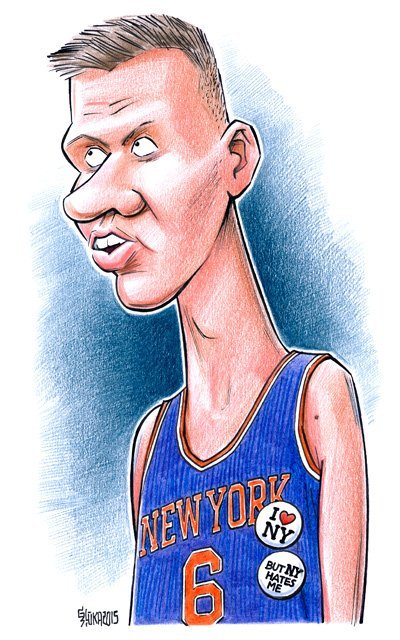 He was booed by the New York crowd upon being drafted.
"I think American fans, they know more college guys than guys overseas," Porzingis said. "But my agent did a great job of putting my name out there in the news and having a lot of interviews and media stuff, so the people in New York and all over America can get to know me better. I think more and more fans are getting to know me better now."
"I mean, a lot of fans weren't happy that they drafted me, but I have to do everything that's in my hands to turn those booing fans into clapping fans," Porzingis said.