Recently I got my hands on an MVP20U+RH drawing monitor by the Taiwanese company Yiynova. Yiynova is the second largest drawing monitor producer after Wacom. Wacom products are well known for their quality and high price points.
However, Yiynova is representing their products as a good alternative, with a more affordable price point.
Yiynova drawing monitor sets come with several cables (DVII, HDMI, DP++, VGA), two artist glows, one digital pen (without AAA batteries), and one Remote Hotkey which can be attached to the screen with a suction cups and it includes six buttons.
The first essential Yiynova monitor's installation instruction is to delete any Wacom software from the user's computer, if there is any. At first, I ignored this instruction and later had to spend a lot of time to fix all the errors to connect the drawing monitor correctly. Therefore it is not possible to use Wacom and Yiynova products on the same computer simultaneously.
The monitor itself is big, and if it is used daily, it would require a permanent place next to the computer. It has standard 1920 X 1080 resolution, which is particularly useful when it is necessary to mirror the screen with another device. In the case of weight, the Yiynova monitor is 3 kg lighter than similar size Wacom Cintiq drawing monitors.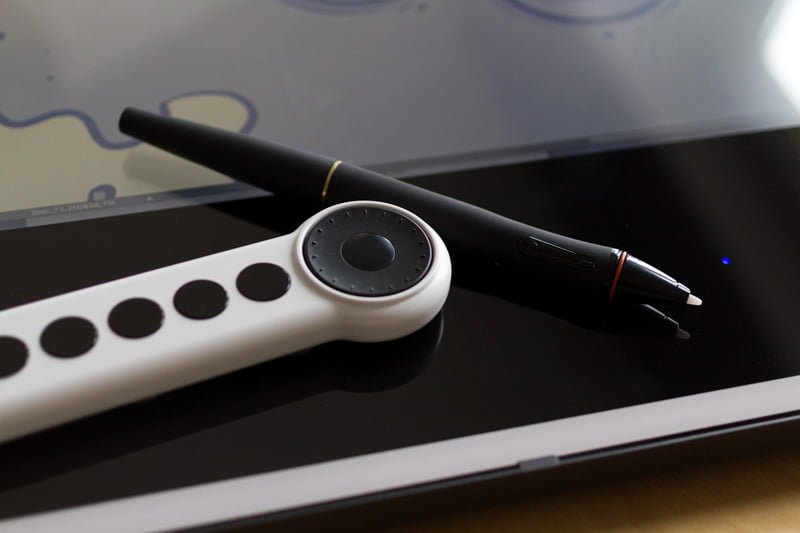 For my daily work I use a Wacom Intuos pen, therefore when I first draw lines with a Yiynova pen, it felt somewhat more sensitive to the movement. It could be because it draws on a totally smooth glass-like surface in comparison with a Wacom Intuos matted surface. The outcome on the screen is very good and similar to the Wacom Intuos results.
I can see that the 2048 pen's pressure sensitivity levels are not a lay.
The colour saturation on the Yiynova monitor screen is not as bright as it is on the iMac or MacBookPro screen. The finished drawing looks brighter with more saturated colours when opened than on the Mac screen. Therefore during the colouring I wanted to open the drawing on the Mac to cross-reference. The actual tonality of the colours seems accurate without any visible offset, however because of the lower saturation levels the colouring itself proves to be somewhat difficult and for that reason I prefer to do colouring process with the Intuos. There's a possibility that with time the user of Yiynova can get used to the pale colour palete, but for me as a new user of the monitor it was challenging to find the colour tones I wished for.
The Remote Hotkey set, similarly as in Wacom products, allows customising shortcuts for each software individually.
The Monitors stand is easily adjustable to a necessary height, and its rubber coating provides firm hold on any surface.
Would I recommend this product for anyone?
If you are an artist and use the Wacom Intuos daily or any another drawing tablet, then Yiynova MVP20U+RH would be a useful purchase.
It is easier to draw straight on the screen, and Yiynova pens sensitivity is excellent. The downside could be for those who use the monitor with a laptop and have to move around often, so carrying both devices could prove to be uncomfortable. Also, if the colour nuances and tone accuracy are very important in your work, the colouring process with this monitor can be difficult.
If you have been dreaming about Wacom Cintiq drawing monitor, it may be worth trying out this one first.
More detailed information about Yiynova MVP20U+RH technical parameters can be found on the Yiynova webpage.